COUNTRY NAME

VOLUME

USA

usd

-

usd

-

EU

eur

-

eur

-

KOREA

krw

-

krw

-

JAPAN

jpy

-

jpy

-

CHINA

cny

-

cny

-

HONG KONG

hkd

-

hkd

-

UK

gbp

-

gbp

-

CANADA

cad

-

cad

-

SWITZERLAND

chf

-

chf

-

UAE

aed

-

aed

-

SINGAPORE

sgd

-

sgd

-

INDIA

inr

-

inr

-

PHILIPPINES

php

-

php

-

BRAZIL

brl

-

brl

-

RUSSIA

rub

-

rub

-

VIETNAM

vnd

-

vnd

-
TURNPLE(TRP)
The difference of the TURNPLE (TRP) is that when the TRP token is exchanged with the TRP pay,
the upper level TRP token is rewarded.
TRP Pay is issued in 16 countries and is linked to the exchange rate.
TURNPLE(TRP) PROJECT
T.R.P is a blockchain optimized for global platforms and global finance.
TRP's patents and trademarks related to blockchain are protected by intellectual property rights.
TURNPLE(TRP) NEWS
We'll give you a quick update on the blockchain.
TURNPLE PROJECT REWARD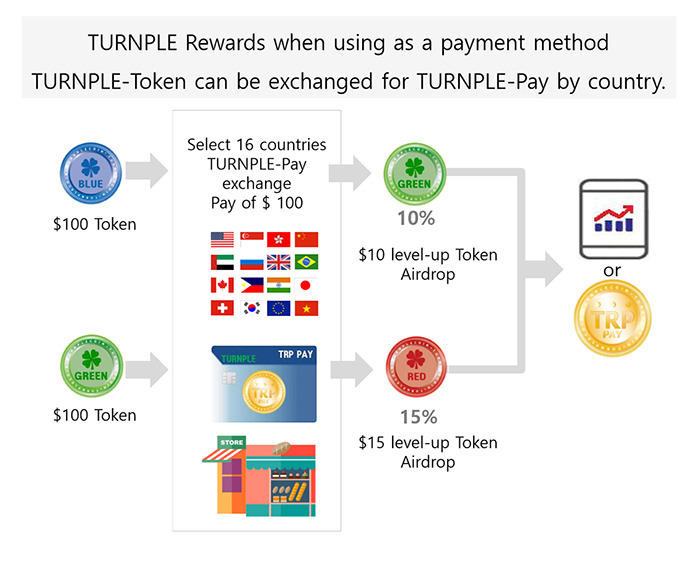 Contact us
Turnple shall never be consigned to an external institution or company for investment inducement.
Also, we do not accept any remittance. Only turnple Wallet exchange is possible.
For detailed investment consultation, please email us below and we will respond promptly.